FIFA recently announced their Player Of The Year award, which is an annual award that goes to the best all-around player on and off the soccer field.
Abby Wambach became the first American player in a decade to win the award, after the great Mia Hamm. Wambach's performance in the 2012 Olympics was stellar, she notched five goals to increase her international total to 152, six shy of Hamm. She beat out teammate Alex Morgan and five time winner Marta of Brazil.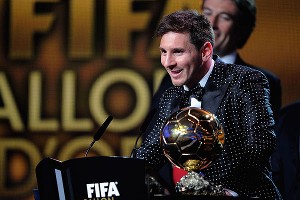 Image credit to espn.com
Lionel Messi added another award to his already spectacular 2012. This is his fourth time winning, becoming the first player to do so. Messi recently broke the record of most goals scored in a calendar year, with 91. he beat out Christiano Ronaldo and Iniesta, who had won three times each as well.